World War 1 & World War 2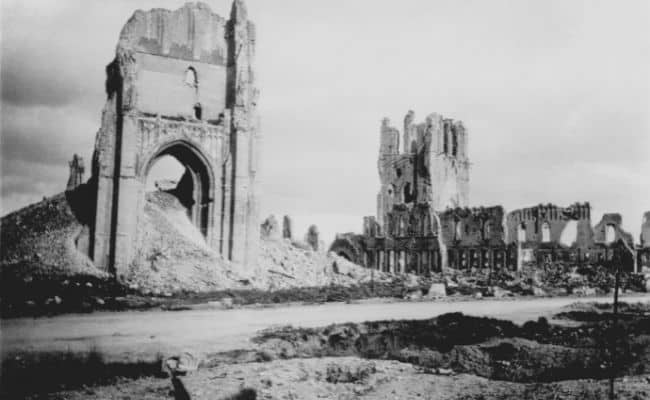 Ypres, Cloth Hall and church destroyed by war
Blunden's experience as a soldier in the First World War had a lasting influence on his poetry.
Across the breadth of his work the war surfaces again and again. His poems linked to the Second World War arose from his foreboding about a repetition of the horrors of the First. Overtones of War is a collection of his war poetry edited by Martin Taylor and published by Duckworth in 1996.
CONCERT PARTY BUSSEBOOM
The stage was set, the house was packed,
The famous troop began;
Our laughter thundered, act by act;
Time light as sunbeams ran.
Dance sprang and spun and neared and fled,
Jest chirped at gayest pitch,
Rhythm dazzled, action sped
Most comically rich.
With generals and lame privates both
Such charms worked wonders, till
The show was over – lagging loth
We faced the sunset chill;
And standing on the sandy way,
With the cracked church peering past,
We heard another matinee,
We heard the maniac blast
Of barrage south by Saint Eloi,
And the red lights flaming there
Called madness: Come, my bonny boy,
And dance to the latest air.
To this new concert, white we stood;
Cold certainty held our breath;
While men in the tunnels below Larch Wood
Were kicking men to death.
EB's note: 47 th Division Revue. That was as it actually happened, on an early spring morning in 1917, – the 47 th Division I think gave the Revue, in a large hut not far from Vlamertinghe.
TO WILFRED OWEN
Killed in action November 4 th , 1918
Where does your spirit walk, kind soldier, now,
In this deep winter, bright with ready guns?
And have you found new poems in this war?
Some would more wish you, with untroubled brow,
Perpetual sleep, which you perhaps wished once –
To unknow this swift return of all you bore.
And yet, if ever in the scheme of things
Past men have leave to see the world they loved,
This night you crossed the lines, for a second seen
By worried sentries. In vast tunnellings
You track the working-party; by the gloved
Wire-sergeant stand; look in at the canteen;
And I, dream-following you, reading your eyes,
Your veteran youthful eyes, discover fair
Some further hope, which did not formerly rise.
Smiling you fade, the future meets you there.
Edmund Blunden 1940
Published:
The Cherwell, Vol. 58, No. 3, 3 Feb. 1940
Augury, 27 April 1940